Call for Papers: Syntheses from landscape-ecological research
Living Special Issue opened: 2021 (new!) - ongoing
---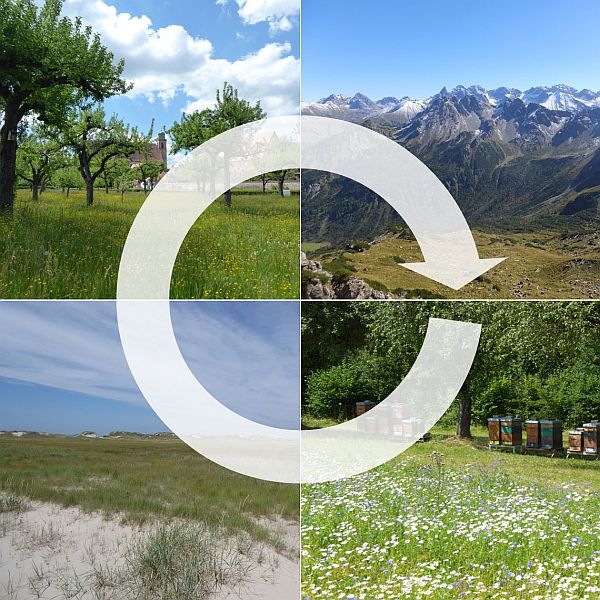 Guest Editors / Edited by:
Uta Schirpke, University of Innsbruck/EURAC, Austria/Italy Website
Werner Rolf, Technical University of Munich, Germany Website

---
We invite contributions to our new "Living" Special Issue "Syntheses from landscape-ecological research" aiming to build a bridge between research and practice. It provides the opportunity to publish research results in a summarized way and to make the most important outcomes of the work accessible to researchers and practitioners. In particular, two types of research outcomes are welcome for submission to this special issue:
Summary of thesis: PhD, habilitation, and master candidates and graduates are invited to publish a summary of their thesis. The special issue is suitable to synthesize the outcomes of your thesis that have been already published in different articles as part of the cumulative thesis or to summarize more comprehensive work that has been elaborated as an monographic work.
Project and research synthesis: Research consortia and working groups are invited to submit a summary of their research and to give an overview of the most important insights and outcomes of research projects. It offers research groups and projects to publish target scientific outputs for knowledge brokerage, putting emphasis on theory-practice transfer and policy making.
Submitted manuscripts may contain results that have been already published separately but need to provide new insights by differently combining outcomes in order to develop further conclusions.
There is no specific regulation to the organization of the article, but all papers should have a clear and appropriate structure. Articles can contain up to 6.000 words, including manuscript text and an appropriate number of references.
We want to encourage in particular young researchers to outreach with their work. Publication in the Special Issue offers:
Summarized publication of research results, in a journal with impact indices (CiteScore and Journal Rank) and article indexing in Scopus, EBSCO Environment Complete, and DOAJ (Directory of Open Access Journals) among others.
High qualitative articles through a double-blind peer review process in an independent journal, supported by the IALE community.
Open Access publishing under the terms of the Creative Commons CC-BY 4.0 license – thus, authors retain ownership of the copyright.
A fair article processing charge and pricing system, due to non-profit-oriented price calculations, including fee-waiver programs for young scholars and low-income countries.
Transdisciplinarity - promoting the connectivity of research results through knowledge transfer into practice.
Because of its character as "living" Special Issue, articles can be submitted and published continuously and without deadlines. If you are planning to submit a contribution you are welcome to contact us in advance to clarify questions if needed. We are looking forward to your replies and paper submissions.
---
If authors want their manuscript considered for this special issues please mention during the submission process in the cover letter using the text field Comments for the Editor.